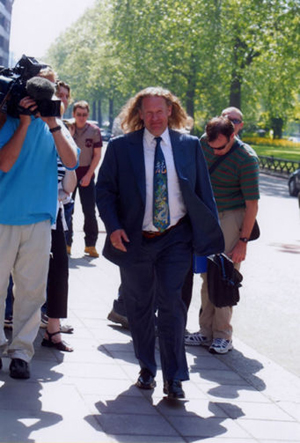 Robin at the Ivor Novello Awards, Photo courtesy of Graham Reading © (click image for large view)
Robin Willow
Robin's music career has included solo performances at many clubs during the folk revival and several years with a major mixed voice choir. He has been interviewed and has performed his own songs live on radio stations in England, Norway, Spain and America. He has given songwriter master-classes in England and Holland. Most recently Robin, known as DaLongAh in China, has sung various popular Chinese songs in Chinese to audiences in England and China.
By day Robin is a Civil Servant, but by night he is an accomplished songwriter and live performer. Robin has just released his new album, "For Honour". His earlier albums have sold in America, Japan, China, Spain and Great Britain.
"In the mid 70's Elton John wanted to sign me up, but being from a strong and ancient Yorkshire family my motto was 'Will it pay?'. I was busy training for a new career as a teacher, and sadly let that opportunity pass me by. But Sir Elton's has often inspired me in my own songwriting. In the same way Johnny Silvo has taught me a lot about performing. I also found Pete Gage to be very inspirational in the studio, and very hard working. "
Robin has performed live on the Derek Jamieson Show, and made a television appearance on the BBC "Backstage" show where he was interviewed by TV babe Julia Bradbury and performed two of his own compositions. Robin also performed for a time with the "Medieval Mayhem" theatrical troupe singing old English songs as well as performing Wm Shakespeare's speech of King Henry V.
Sales of Robin's current album, For Honour, are very good. it is also available from Virgin Megastores. Robin has several new projects, which include further appearances on Chinese television next year singing popular Chinese songs
For interviews, pictures and CD's contact
Dragonar Music
0845 377 7031